Discover more from Map Nerd
Exploring amazing places and cool things on maps, with short videos & digestible info. Come explore with me! (subscribing is free :)
The Pile of Clothes You Can See From Space 🗿
The clothes you donate likely end up in the Chilean desert (🗿Amazing Places Series)
Hi! If you're new here, this is Map Nerd. We explore amazing places and cool things on maps, usually with a video story + quick digestible info. If you enjoy it, subscribe and you can explore with us!
---
In this issue:
FYI the last sections may get cut off in your inbox - click "view entire message."
---
Maps On News & News On Maps
the latest news explained with good maps and the latest good maps that have hit the news. But mostly quick links to fun maps that you can procrastinate with 😊…
---
Good Map 😍 / 🙄 Bad Map
here I share one beautiful slash fascinating map plus one absolutely terrible map. Hopefully you'll be mesmerized by something interesting and then laugh at something absurd.
😍The Good Map: Since this issue's headline story is about an unfortunate giant clothing dump, here's a wonderfully informative "story map" following the path of global fast fashion from production to shipping to disposal. If you're not familiar with story maps, they are an interactive series of web maps that tell a particular (wait for it…) story.
Link to StoryMap: Mapping the Environmental Effects of Fast Fashion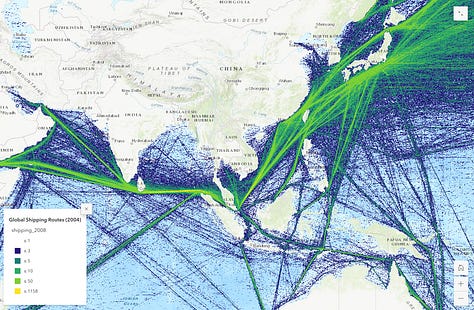 🙄The Bad Map: States mentioned in Katy Perry songs. I don't even know if this is true, but what a great bad map…
---
This Issue's Story+Video:
The Pile of Clothes You Can See From Space!
Do you know where your clothes go when you donate them?
A lot of it goes here…
You may have heard of this place, or maybe not, but I was reminded this week when a satellite photo of it went viral (I know the folks who captured this image and they were kind enough to send it to me: thanks SkyFi).
This is the Atacama Desert on the outskirts of Iquique in Northern Chile (specifically, the Alto Hospicio suburb). It's one of the world's largest dumping grounds for used clothing, and as the new satellite image points out it just keeps getting bigger and bigger and bigger…
Here's the basics on why there's a clothing pile you can see from space here:
Iquique is a big trading port and has been a duty free zone since 1975. That means it's relatively cheap to import and export stuff, like used cars or clothing..
Traders buy containers full of discarded clothing that comes from the US, Europe, Asia, Australia. It's mostly stuff you drop in donation bins and the huge overstock from last season's fast fashion.
Traders then export and resell anything that still has value, but unfortunately lots of it doesn't. Giant heaps get passed off to local markets that sell what they can in town, and then… they dump the rest in the Atacama desert, which happens to be the driest place on the planet.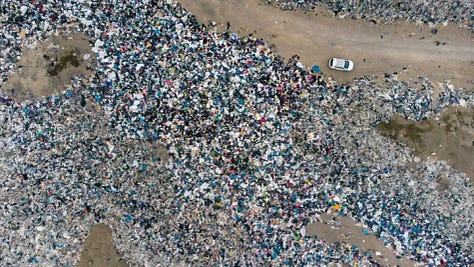 It's estimated there's over 100,000 tons of second-hand clothes here, from shirts and shoes to blazers and belts. Until we can figure out a sustainable solution on what to do with it, the pile will just keep getting bigger, and future satellites will have to zoom out to capture it all. 🤷‍♂️
---
The World's Other Giant Clothing Dumps
Chile's clothing dump in the Atacama Desert gets the most attention, but there are others like it. Ghana, Pakistan, India, and Ukraine, among others, usually import more than Chile. Here are some of the other notable single sites for the dumping of second-hand clothes:
Accra, Ghana: West Africa gets a big portion of the second-hand clothing trade. The Kantamanto Market in Accra is one of the largest, if not largest, markets for second-hand goods in the world. Like in Iquique, many of the used clothes brought here have no value, and, like in Iquique, they therefore get dumped here. The local term is "obroni wawu," which translates to "dead white man's clothes." Here's a good story from Australia's ABC News on Accra's fast fashion dumping problem (link here)

Panipat, India: Panipat is one of the world's oldest clothing dumps and also extremely large: it's estimated to reach the size of Delhi in a few years. But unlike some of the others on this list, Panipat has a large established recycling industry that organizes and processes a good chunk of what comes in. Clothes are shredded into yarns to make low quality textiles like emergency blankets.

Nairobi, Kenya: Gikomba Market is for East Africa what Kantamanto is to West. Nearby Dondora is the notorious dumping ground that recieves most of the market's waste. It's vast. Often considered the largest landfill in East Africa
---
Where To Learn More About The Fast Fashion Recycling Problem:
Link: Fast Fashion Goes to Die in the World's Largest Fog Desert (National Geographic)
THANK YOU for reading Map Nerd. Please Subscribe if you enjoy it, to keep it going 🙏