Discover more from Map Nerd
Exploring amazing places and cool things on maps, with short videos & digestible info. Come explore with me! (subscribing is free :)
The Place That Stopped A Volcano 🗿
Also The World's Loneliest House, Puffin Hunting, & Average Penis Size By Country (🗿Amazing Places Series)
Hi! If you're new, welcome! Also, DON'T LET THE TITLE FOOL YOU: even though I posted this video on socials last week, this edition is jam-packed with lots lots more, including maps on Penises and Seamonsters! Hope you enjoy! -Alex (aka Map Nerd)
---
In this issue:
---
▶︎ Maps On News & News On Maps
the latest news explained with good maps and the latest good maps that have hit the news. But mostly quick links to fun maps that you can procrastinate with 😊…
The Highest Rates of Long-Term Poverty in the US: based on US census data, this map shows where poverty is a persistent problem. Southern states dominate in a good reminder that geography correlates with and affects everyday life much more than most realize.
American Train Derailments: Now we get more interesting. This map shows the concentration and severity of train derailments in the US from 2012 to 2023. It's zoomable too, down to the specific track, so you can see how close you are to track with troubled history.

Interactive Map of US Telegrams: Telegrams were the instant messages of the 1850's. This is a well-done interactive timeline map that charts the development of telegraph lines across the US. It's got explanations and stories that go with it too. If you're a map nerd and a history buff, you're gonna love this one.

MapQuest For The Roman Empire: Again for the map nerd slash history buff: this is a very impressive interactive map with tons of fun, though relatively pointless, features. Professors at Stanford recreated what traveling was like during the Roman Empire. You can search for specific directions (say, from Rome to Carthage) with specific modes of transport (donkey, wagon, carriage), by season and route (road, river, open sea). Oh, it'll also tell you how much that trip might've cost you (in denarii, of course, which is worth 10 Roman asses in case you need the conversion).
---
▶︎ Good Map 😍 / 🙄 Bad Map
here I share one beautiful slash fascinating map plus one absolutely terrible map. Hopefully you'll be mesmerized by something interesting and then laugh at something absurd.
😍The Good Map: in line with this issue's main story, here is the first "complete" map of Iceland ever recorded. This is a beautiful example of the "golden age" of 16th century mapmaking, which is when a (nominally) full view of the world started to take shape and the first real atlas was born. This map of "Islandia" was printed in that first atlas, the Theatrium Orbis Terrarum by Abraham Ortelius, around 1587. It's got all the things that make classic maps great and which Google Maps could never replicate: seamonsters, iceflows, erupting volcanos. It's also priceless… but if you're in the market, auction prices for 1600's originals are around $20,000.
🙄The Bad Map: This one caught my eye from @terriblemaps. Because… why??
---
This Issue's Video Story:
▶︎ The Place That Stopped A Volcano
Also home to the "World's Loneliest House" which is not Bjork's
I know you've seen this photo. It's like, all over the internet.
My friends at Atlas Obscura did a post on it in April, and as they pointed out, despite the rumors, this is not Bjork's house. (That rumor isn't so crazy though because The Icelandic PM did offer Bjork an island of the same name, which she refused, but also it wasn't this island).
But what's even crazier than this lonely shareable house is what happened to this island chain in the 1970s; They stopped a massive volcano from destroying everything with water cannons.
But First: let's clear up on this house to those that aren't familiar: This is a hunting lodge on a small island called Elliðaey in southern Iceland within an archipelago called Vestmannaeyjar.
(I feel obligated to tell you what they're hunting but you may not like it: puffins!).
No one lives in this lodge permanently, but it is habitable. Youtuber Ryan Trahan went there last year actually. Getting there is treacherous. It's also not the only lonely house out there either. There are other isolated cabins on nearby islands too. (You can watch the YouTube video on Ryan's visit to Elliðaey here).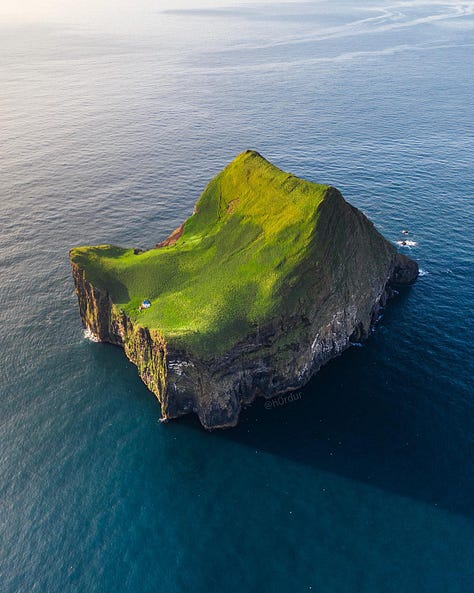 What's more amazing about Vestmannaeyjar though is what happened in 1973. A volcano named Eldfell erupted on the largest and only permanently populated island here called Heimaey.
A giant crack opened up that split the island and spewed lava up to 500 feet in the air – which was all caught on camera. The eruption lasted for months and the lava flowed in waves over 30 feet high on its way to engulfing pretty much everything. (luckily, everyone was evacuated safely in the first few days. In a crazy fateful twist, all the boats in the harbor when it happened because there was a storm before that prevented them from going out that day).
1973 Eldfell Eruption Footage (YouTube)
Unbelievably, an Icelandic physics professor was allowed to try out his theory of using seawater to stop the volcano, and it worked. They brought in boats and pumps that sprayed 100s of gallons of water per minute into the flow. Workers built a network of pipes to spread it around and built up walls of solidified lava to steer it. About 2 billion gallons were sprayed nonstop over 4 months.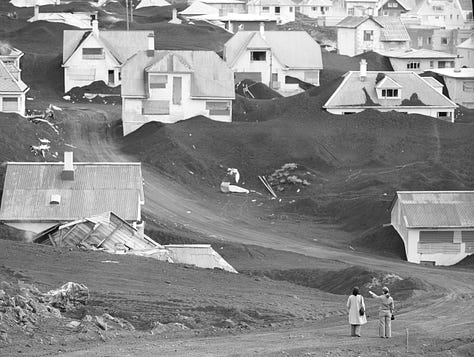 The effort successfully diverted the lava and saved the town's harbor. It is to this day the largest scale and most successful attempt to stop a volcano. Take that Tommy Lee Jones (because… the movie Volcano… he was in it).
---
▶︎ Other Attempts To Stop A Volcano (that don't include Tommy Lee Jones)
Even though the title pokes fun at Tommy Lee Jones' least memorable movie, it's worth noting that Volcano actually ends with a fleet of firetrucks and helicopters hosing down a lava river that's overtaking Wilshire Blvd. Surprise: they save the city!
Actually, Volcano WAS based on a true story (sort of, kind of, in that movie sort of way), but it wasn't the story of Iceland's Eldfell. It was actually a different volcanic eruption - Mexico's Parícutin - which made me very curious about any other places that have tried large-scale coordinated attempts to stop or divert lava flows…
Parícutin, Mexico: it turns out there wasn't really a large-scale attempt to divert the lava here. Apparently the movie was (very loosely) based on the effects Parícutin's nine-year eruption during the 1950's, which slowly but surely swallowed up whole towns as residents watched. It is considered the first full life cycle of an active volcano that modern scientists were able to witness.

Mount Etna, Italy: Mount Etna in Sicily is one of the world's most active volcanoes. It's been erupting on and off for millennia (literally: the Romans talked about it plenty). During a 1983 eruption, engineers tried and failed to plant explosives in order to reroute the flow. Apparently, they dug tubes to place charges, but the lava heated those tubes so fast that they would've ignited the charges well before they were placed in their positions. In 1991, they tried again and this time succeeded… but it took a few tries. First, bulldozers built big piles of earthen barriers, but the lava rolled right through them. Then, the US Army dropped concrete blocks from helicopters, but the lava consumed them (amazingly, lava is more dense than concrete so it's not a great option). Finally, in 1992, a "heroic dump truck driver" leveled a path beside the flow, which was now in a much more dangerous "lava tube," and engineers place 7.7 tons of explosives beside it (using lessons from 1983, they knew right where to put them). Alternative channels were also dug to help guide it away from the nearest town. The May 1992 massive explosion cratered the lava tube, and successfully diverted the majority of the flow away from town. Coincidentally (or not?), the eruption began to subside shortly thereafter, which is why most consider the operation at Edlfell to be more impressive (though no less heroic 💪).

From L to R: Diverting Mount Etna (Gianni Tortoli), Diagram of 1983 diversion attempts (NPR), Satellite photo of recent 2021 eruption (ESA)

Kilaue & Mauna Loa, Hawaii: Lava diversion has been attempted in Hawaii for decades. Most of it has been relatively unsuccessful, but learnings from the many Hawaiian operations have laid the foundation for much of what we know today about lava diversion. In 1935, the US Army flew 10 biplanes over an eruption and dropped 600-pound bombs. It didn't work well. In fact, a hiker found two of these bombs lying in plain sight - unexploded - in 2020. The Army tried again in 1942 when light from an eruption was deemed a national security threat during World War 2. That also didn't produce the desired result. During eruptions in the 1960's, there was also a futile attempt to build up rock walls. The politics of lava diversion is a bit complicated in Hawaii: many locals do not like the idea of manipulating mother nature's intended path. But, it's also one of the most densely populated places to sit directly on an active volcanic zone.

From L to R: 1935 bomb photographed in 1977 (USGS), Man stands by lava flow near Pahoa in 2018 (Scott Wiggers/AP), Recent unexploded bomb discovered by hiker in 2020 (Kawika Singson)

Cumbre Vieja, Spain: Most recently, officials in the Canary Islands dispatched heavy equipment to flatten a path for a 2021 eruption on La Palma island. The path was supposed to give the lava a more efficient route to the ocean, avoiding a nearby town. Unfortunately, the lava didn't take the hint, and the neighborhood of Todoque was destroyed. "We had to at least try," said a firefighter.

From L to R: 2021 Cumbre Vieja lava flow (AP), Bird's eye map of 2021 Cumbre Vieja eruption (CBC News), Lava overtaking road in La Palma (Yahoo! News)
---
▶︎
The #1 Question Asked: Can You Really Hunt Puffins?
Here's the thing: this story wasn't about puffins. It was about a lonely hunting lodge and historic volcano. But I knew the second I found out what the "hunting" part of this hunting lodge was that it would probably cause some double takes. It is now, in fact, the number one comment on socials.
So, let's get into it. What's the deal with puffin hunting?
Puffins are a traditional food source in Scandinavia. Like other arctic sea birds, they were abundant and nutrient rich. They've since become less abundant and the practice of hunting and eating them has become less common. It is no longer legal to hunt puffins in most Nordic countries (like Norway, Sweden, Finland), but it remains legal in Iceland and, I believe, the Faroe Islands (autonomous islands near Iceland that are part of the Kingdom of Denmark).

Icelanders do still hunt and eat puffins. Not all the time. It's more of a couple-times-a-year cultural thing for special events or family gatherings. It's also a catchy tourist attraction: restaurants in Reykjavik offer samples, obviously. (You can watch Gordon Ramsay try Puffins here).

For traditional Icelanders, puffin hunting is a special ritual passed down through generations. The locals of Vestmannaeyjar, in particular, are known for their puffin customs (though I didn't mention it in the video, Vestmannaeyjar is home to the world's largest puffin colony). The standard hunting technique relies on a rope and a net. Men repel down cliff sides, where the puffins roost, and swing giant nets called háfur to catch the birds amidst the windy flurry that their disturbances cause.

The traditional summer puffin hunting season is called Lundaveiðar. It used to net (pun intended) thousands of birds per hunter, but these days its limited to a couple hundred total in Vestmannaeyjar. Instead, some locals leave the islands and head to the far north of Iceland, where hunting is less limited (as of now).

There's also an annual festival on Heimaey called Thjóðhátíð (go ahead, try to pronounce it without Google). It's one of the largest festivals in the country, with music, bonfires, and… puffin.
There's one other puffin-related event there: In August & September, Heimaey residents throw baby puffins into the ocean. It's not as bad as it sounds. The puffin hatchlings are supposed to head to sea following the moonlight, but get confused by the lights from town. So, residents spend a few weeks in late summer picking up lost baby puffins and throwing them back to the sea!
Also, because I came across a fun new fact, I obviously needed to share: there's a specific dog breed - called the Norwegian Lundehund - that was bred specifically to assist on puffin hunts. So if the final round in Jeopardy is ever: a foxhound is to foxes as a lundehund is to what? You know the answer. (it's puffins).
---
▶︎ Find Out More About Elliðaey, Heimaey, & Vestmannaeyjar:
Vestmannaeyjar tourism sites:
Thjóðhátíð festival site:
YouTube Video: Gordon Ramsay Eats Puffin (YouTube):
YouTube Video: Ryan Trahan Stays At The World's Loneliest House on Elliðaey:
Thanks for reading Map Nerd! Subscribe for free to get new posts and support my work.🙏